Ausfahrt Pforzheim: Liebe ist…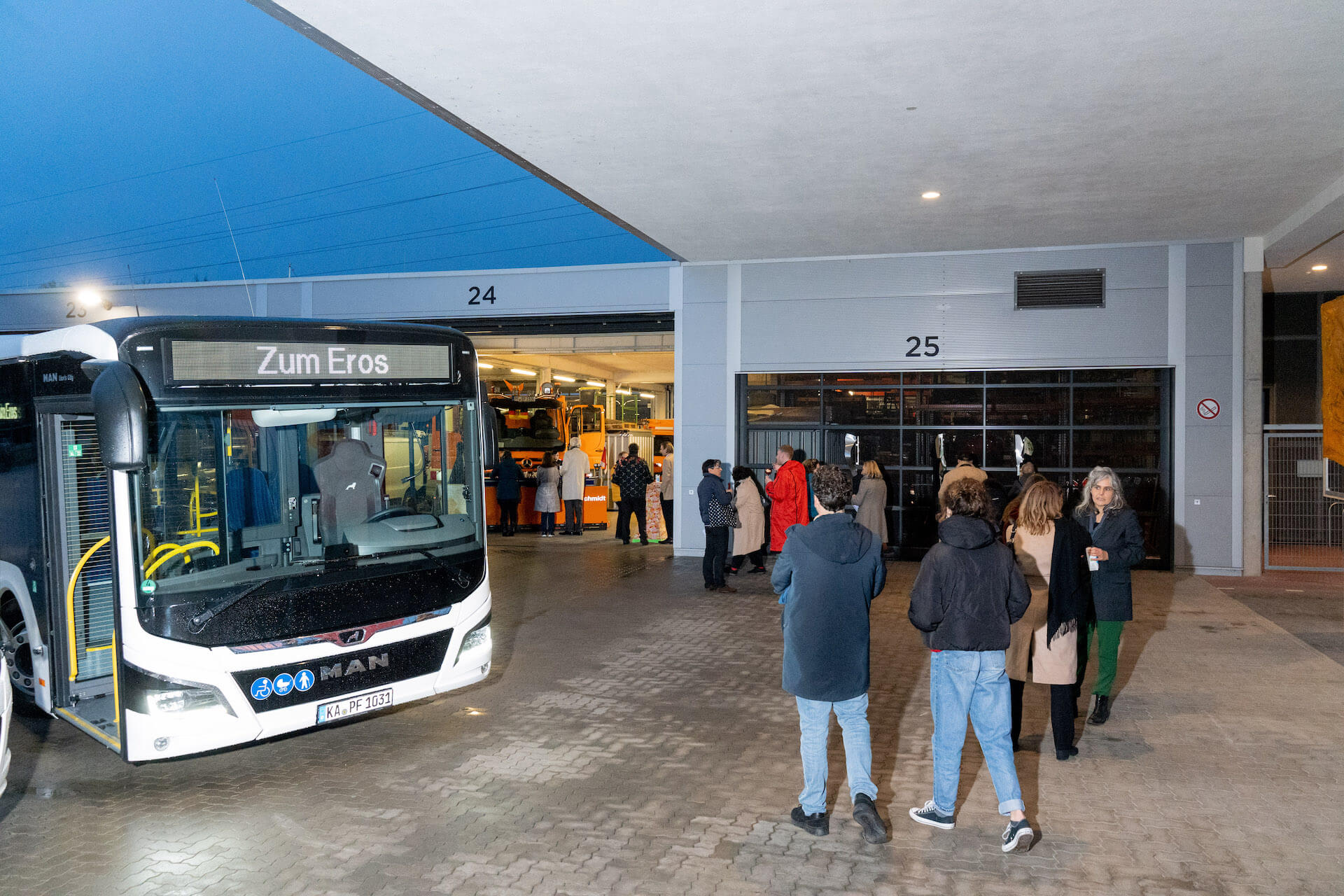 In einem Pforzheimer Stadtbus wurde Ornamenta's intimes freitägliches "try out" von einem Zielschild mit der Aufschrift "Zum Eros" begrüßt. Unser romantischer Abend mit den Technischen Diensten Pforzheim fand vor der Kulisse des Nordschwarzwalds statt, wo Eros auf uns wartete und uns verschiedene Arten neuer Hingabe bot.
Ben Epple, Inhaber eines Hochzeitsladens, stellte uns in einem Vortrag die Möglichkeiten vor, wie man in der modernen Welt Liebe ausdrücken und gleichzeitig die Tradition bewahren kann. Wir fragten uns wie wir verschiedene Arten von Liebe feiern können, während wir uns an ihrer sich ständig weiterentwickelnden Form erfreuen. Es ist schwierig Liebe zu definieren. Liebe kann etwas sein, das wir fühlen, etwas, wonach wir uns sehnen, etwas, das wir geben und etwas, das wir empfangen, vielleicht ist Liebe etwas, das wir konsumieren.  
Bei den Technischen Diensten Pforzheim angekommen, sprach die Historikerin Helge-Marie Dilger über Intimität in der traditionellen deutschen Folklore. Dann gestand der moderne Dandy Luis Ake seine Liebe und lud uns ein, seinen Liebeskummer zu teilen. Seine Installation aus Rauch und Wasser war eine metaphysische Performance der Intimität.
Am Ende des Abends sahen wir die Arbeiten des niederländischen Künstlers Wouter Paijmans, die über den Bahnhof verteilt waren. Symbole des Verzichts, der Redundanz und der Reproduktion stehen für unser Verhältnis zum Massenkonsum, zur Liebe, zum Verlangen und zum Bedürfnis, sich jederzeit verbunden zu fühlen.
Als wir uns verabschiedeten, fragten wir uns, ob wir Liebe wirklich definieren müssen, oder ob die Akzeptanz der Unfähigkeit, dies zu tun, der Weg zur Intimität ist. Liebe ist vielleicht nicht die Sache oder das Objekt (des Begehrens), sondern die Übertragung von einem Zustand (des Seins) in einen anderen.
Autor: David Cross Kane, Ornamenta 2024
Deutsche Übersetzung: Merit Julia Sauter
Foto: ORNAMENTA April 2022 try out event "Zum Eros", Karolina Sobel
Ornamenta column April 2022
Ausfahrt Pforzheim: Love is…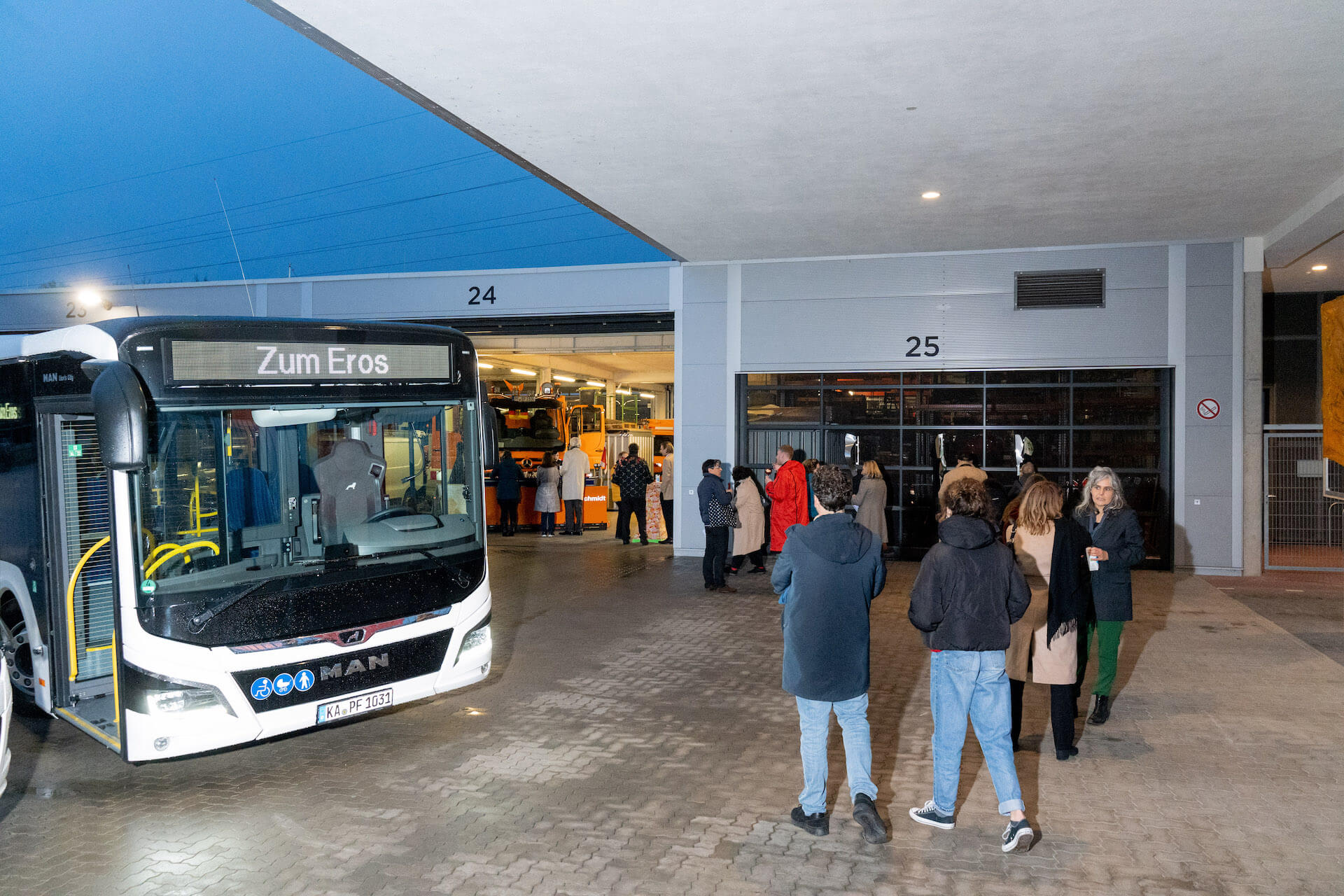 Boarding a chariot – in this case, a Pforzheim city bus – Ornamenta's intimate Friday 'try-out' gathering was greeted by a destination blind that read 'Zum Eros'. An evening of romance via Technische Dienste Pforzheim cast against the backdrop of Nordschwarzwald where Eros awaited – all kinds of new devotions were on offer.
At our point of departure, Ben Epple presented modes by which to express contemporary forms of love through embracing certain aspects of tradition and collective desire. We asked how do we celebrate and profess different kinds of love with sincerity whilst taking pleasure in its ever-evolving form? There is an (im)possibility when trying to define what love is.  Love can be something we feel, something we long for, something we give and something we receive, perhaps love is something we consume. 
After cruising through the streets we arrived at Technische Dienste Pforzheim where historian Helge-Marie Dilger shared narratives of intimacy in traditional German folklore. Then, we boarded with modern dandy Luis Ake who professed his love for love and invited us to share in consolidated heartache – where artefacts had moved across screens, smoke and water now performed an intimate metaphysical dance suggesting that history and the elements have something to tell us if we are only willing to listen.
Before making our final departure and taking a leap of faith, Dutch artist Wouter Paijmans presented us with a series of ready-to-wear paintings dispersed around the terminus. Symbols of abandonment, redundancy, and reproduction connecting the relationship we have with mass consumption; love, desire, and the need to feel a sense of attachment to something… anything. 
Drawing the evening to a close, a thread of collective questioning emerged, do we really need to define what love is in itself, or is accepting its unknowability the way to intimacy? Love may not be the thing or object (of desire), but rather the transfer from one state (of being) to another?
Author: David Cross Kane, Ornamenta 2024
Photo: ORNAMENTA April 2022 try out event "Zum Eros", Karolina Sobel