Ausfahrt Pforzheim: Die Alpaka-Gesellschaft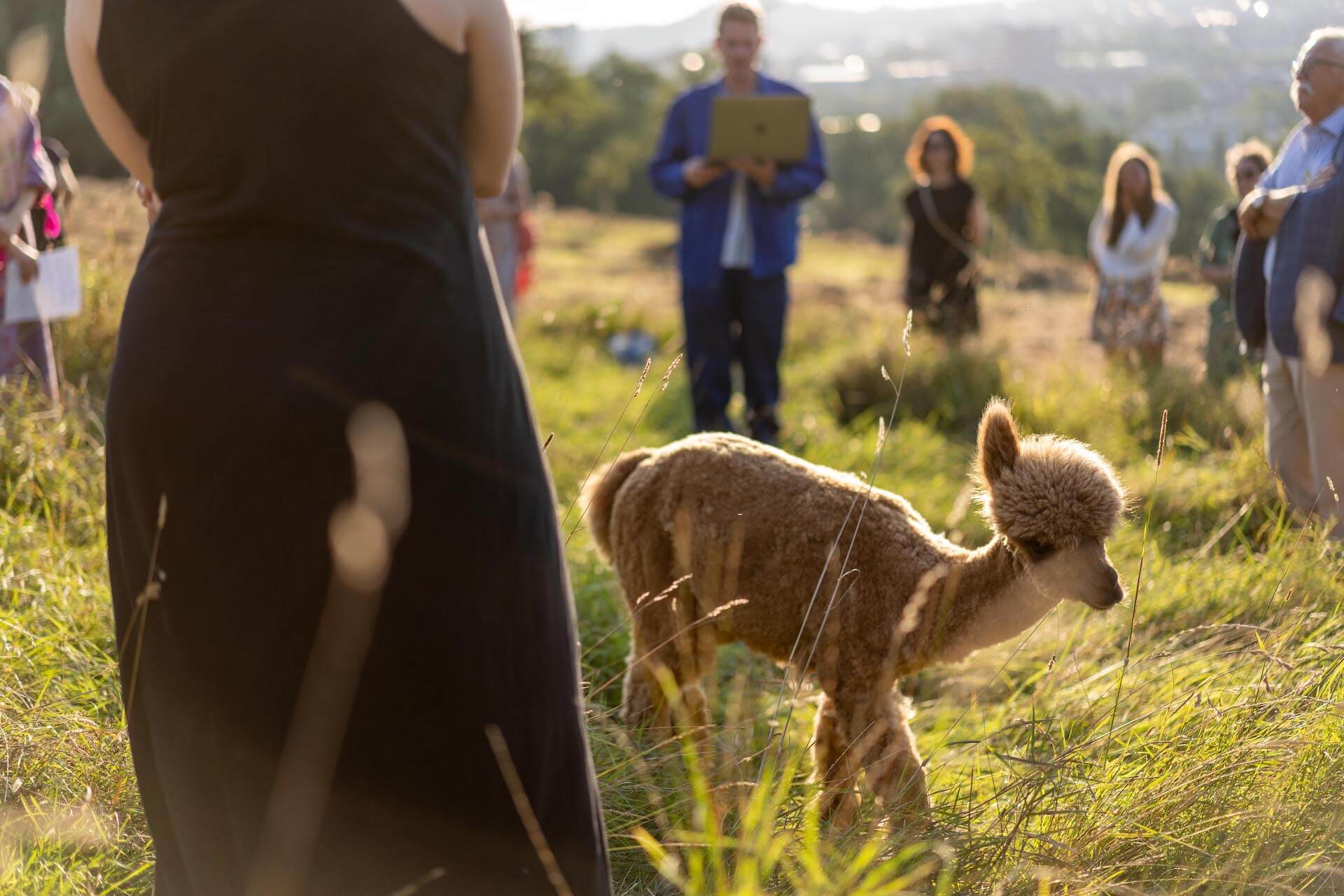 Auf den ersten Blick sehen die Alpakas auf dem Hofgut Buckenberg aus wie Teddys auf vier Beinen – mit spitzen Ohren und verstrubbelten Haaren, die an das erinnern, was uns selbst noch vor wenigen Monaten als "Lockdownfrisur" auf den Köpfen wuchs. So schnell man sich mit der Veränderung auf den Köpfen abzufinden vermochte – so ungewohnt erschien uns zu dieser Zeit die neue Welt des social Distancing in den Köpfen. Ein Zustand, in dem sich das Alpaka bereits ab Geburt befindet – wenngleich weniger aus Gründen der Pandemiebekämpfung, sondern weil die festgewachsene Zunge der Alpakamütter ungeeignet ist, ihre Neugeborenen abzulecken – weshalb ein freundlicher Nasenstupser das höchste der Gefühle unter den Alpaka-Intimitäten ist.
Aber nicht nur die Tatsache, dass sie trotz eines persönlichen Schutzraumes eine Herde um sich herum benötigen, macht sie zum Vorbild für unsere neue Normalität. Denn während regionale Gesellschaften sich gerade vom Abgehängten von Gestern zum Antreiber von Morgen entwickeln, sind es ebenjene allgegenwärtige Buzzwords wie Effizienz, Flexibilität und Sauberkeit (effiziente Energie, flexibles Arbeiten, saubere Mobilität…), die uns ungleich wärmer erscheinen wenn wir uns Beispiele aus dem Leben der Alpakas heranholen. Diese brauchen nicht nur lediglich ein Kilo Heu pro Tag zu essen (und sind damit zehnmal effizienter als ein Pferd) sondern auch derart flexibel, dass sie die Geburt ihrer Nachkommen um bis zu einen Monat herauszögern können – um auf gutes Wetter zu warten. Obendrauf sind sie noch, ganz im Geist der Kehrwoche, derart sauber, dass sie feste Kotplätze benutzen und ohne Probleme stubenrein sein können. Von blitzeblanken Fassaden bis zur Innovationskraft der mittelständischen hidden Champions: Während wir nachts im Stall des Hofguts Buckenbergs schlafen und tagsüber Pforzheim und den Enzkreis erkunden, vermischen sich beide Welten allmählich: Zu einer postpandemischen und dekarbonisierten Gesellschaft, in der wir einen neuen regionalen Bezug entwickeln – sowohl in Tourismus und Industrie als auch in und durch Kunst und Design – wenn wir alle ein wenig auf unser inneres Alpaka hören.
Einmal  monatlich erscheint die  Kolumne "Ausfahrt Pforzheim", in welcher das Team der ORNAMENTA 2024 seine Eindrücke von den regelmäßigen Expeditionen zu verschiedenen Orten in Pforzheim und die Region teilt. Die ORNAMENTA-Kuratoren Katharina Wahl, Willem Schenk und Jules van den Langenberg wohnen und arbeiten jeden Monat für eine Woche an einem anderen Ort, den sogenannten ORNAMENTA-Hubs. Nach einer Woche bei den Alpakas auf dem Hofgut Buckenberg im August, waren sie im September im Kommunalen Kino zu Gast.
Deutsche Übersetzung: Moritz Jähde
Foto: Ornamenta August 2021 try out event "Die Alpaka-Gesellschaft / The Alpaca society", Karolina Sobel
ORNAMENTA column August 2021
Ausfahrt Pforzheim: The Alpaca society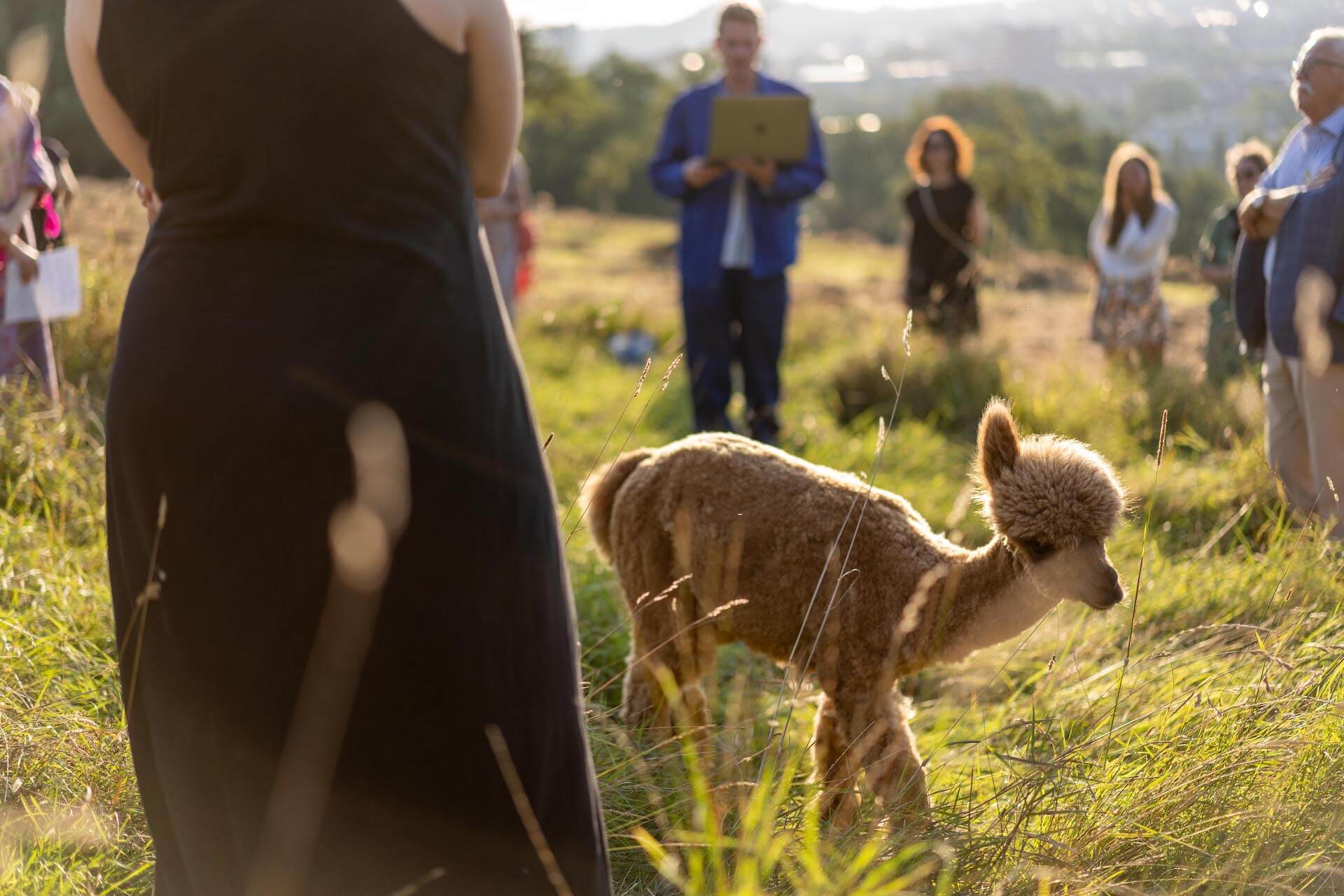 If you would not know any better, you might think Alpacas are the best lockdown cuddle-buddies one could wish for. They simply look so cute, but appearances are deceptive. An Alpaca's tongue is so short that mothers are genetically incapable of licking their newborns clean after giving birth. As a result, Alpacas are unconditioned to receive physical affection beyond a friendly nose bump, anything more intimate is considered undesirable behavior. In the last two years, humans have adopted similar behaviour in the name of social distancing. A form of control which is very natural for the alpacas, still a bit unusual for humans. We think the post-pandemic situation in Europe will continue putting a lens on regionalized societies and European tourism. This more inward focus is a result of a strong hangover from years of expanding globalism. What opportunities does a rapidly changing world present for the Nordschwarzwald, the Enzkreis and Pforzheim? How can this agile postmodern city benefit more from its regional strengths and proximity to the countryside, industries, design, art, and tourism?
To embed ourselves in local dynamics and learn from locatities, we are taking residence at different locations around Pforzheim every month. For this month's immersion, we camped at the Hofgut Buckenberg – sleeping with the animals in the barn and spending our evenings practicing a breathing ritual accompanied by Alpacas and the smell of freshly mown grass. During the daytime, we ventured out to the city and surroundings to meet with the local Mittelstand, entrepreneurs and hidden champions of Baden-Württemberg. We sought to take an active approach to learning how art and design might regenerate, reconsider or intervene in the decarbonization of our economies and speculate about a post pandemic Germany and regionalization of Europe.
From the polished streets and facades to a metal plant where old memories are washed off and melted down to new precious metals, we encounter cleanliness everywhere we go. Kehr-Woche, the weekly duty of cleaning communal living areas, seems to be as rooted in the Baden-Würtenberger as in the Alpaca. It is evident that these animals are much cleaner than most livestock and for some of us even pleasantly smell like popcorn. Join us for more popcorn culture during our upcoming workweek from September 6 to 10 at the Kommunales Kino Pforzheim.
In their monthly column, the ORNAMENTA 2024 team shares their impressions from their regular expeditions to different locations in Pforzheim. The curators Katharina Wahl, Willem Schenk and Jules van den Langenberg live and work for a week at a different location every month, in a so-called ORNAMENTA-hub. After a week with the alpacas at Hofgut Buckenberg in August, they were guests at the communal cinema KoKi in September.
Photo: Ornamenta August 2021 try out event "Die Alpaka-Gesellschaft / The Alpaca society", Karolina Sobel