Ausfahrt Pforzheim: Das Instagram der Gotik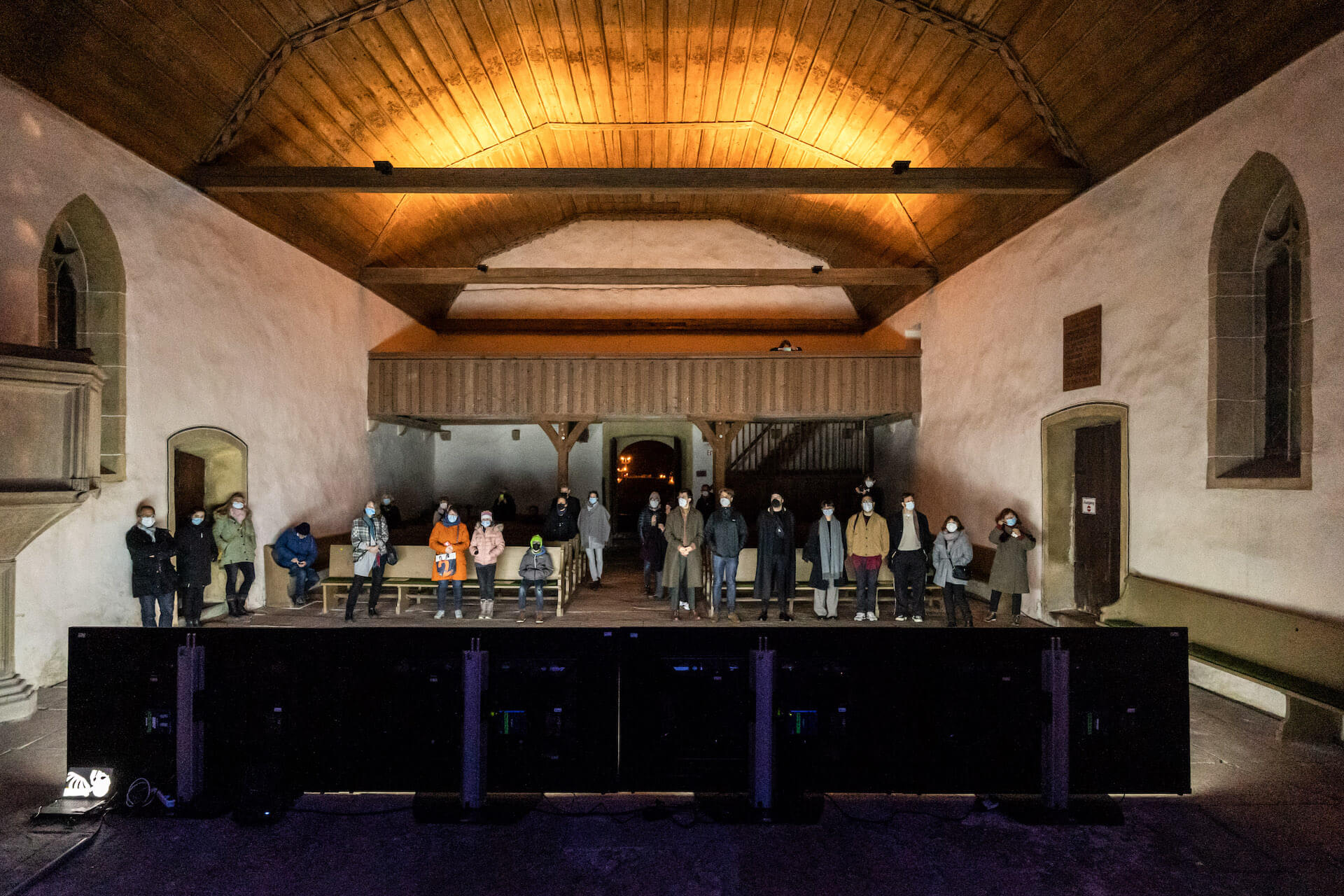 Vom Pforzheimer Marktplatz bis zur Liebfrauenkirche Lienzingen sind es knapp 20 km –  und 539 Jahre. Denn der Kontrast zwischen der 1482 erbauten Kirche und den brutalistischen Sichtbetonfassaden des Stadtzentrums könnte größer kaum sein. Auf unserer Fahrt durch das Enztal hin zu der ehemaligen Wallfahrtskirche vollzieht sich dieser Wandel stückweise – das Stadtbild löst sich langsam auf und nach und nach fallen immer mehr historische Häuser und Kirchen ins Auge.
Doch auf der kleinen Anhöhe angekommen geht die historische Achterbahnfahrt erst richtig los: Denn in der Kirche zeigt der bildende Künstler Özgur Kar (1992, Türkei – lebt und arbeitet in Amsterdam) auf aneinandergereihten Flachbildschirmen eine Arbeit, die die scheinbar klaren Grenzen zwischen steinerner Spätgotik und digitaler Moderne aufzulösen scheint.
Die eingezwängten, gerade so in die Displays passenden Skelettfiguren blicken flüsternd und leise singend zur Decke und treten in Dialog mit den sechs Heiligen im Maschennetzgewölbe des Chors. Sankt Margaretha, Jakobus der Ältere und ihre Nachbarn scheinen in ihren bunten Darstellungen geradezu grell und lebendig im Vergleich zum ihrem digitalen Gegenüber und erscheinen plötzlich wie die Variante eines Instagram-Feeds – aus der Gotik.
Aus diesem Zusammenspiel zwischen Tod und Lebendigem nehmen wir mehr mit als nur die Betrachtung einer kulturellen Stätte in neuem Licht – sondern auch die Frage welches kulturelle Leben aus all den Hinterlassenschaften vergangener Epochen im Enzkreis und im Nordschwarzwald erwachsen kann – wenn man sie mit neuen Perspektiven konfrontiert. Auch wenn die Installation "Good Night" von Özgur Kar den Tod behandelt – kann sie hierfür ein lebendiger Anfang gewesen sein. 
Über den Künstler Özgür Kar (*1992, Ankara, Türkei)
Für die November-Schnupperveranstaltung in der Liebfrauenkirche in Lienzingen zeigt die ORNAMENTA die Videoarbeit Good Night (2021) von Özgur Kar. In diesem Jahr zeigt der Künstler Einzelausstellungen in der Fondation Louis Vuitton in Paris und der Emalin Gallery in London.
Deutsche Übersetzung: Moritz Jähde
Foto: Ornamenta November 2021 try out event "Das Instagram der Gotik / Singing to the saints on the ceiling", Karolina Sobel
ORNAMENTA column November 2024
Ausfahrt Pforzheim: Singing to the Saints on the ceiling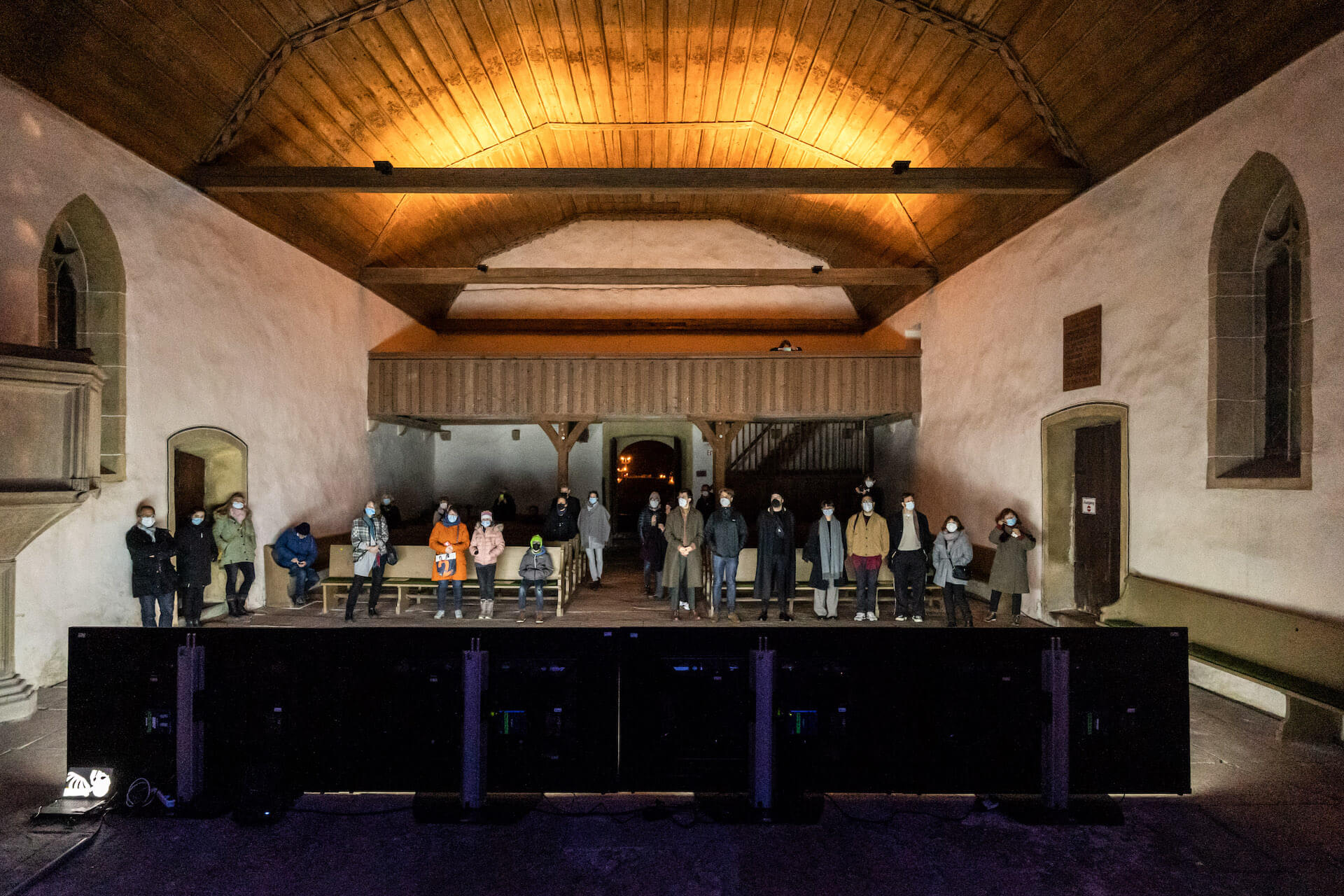 From their terminal in Pforzheim, the curators of Ornamenta depart into the villages and forestry surroundings of the Nordschwarzwald. Driving passed houses, churches and historic sites that unlike Pforzheim still have a strong nostalgic layout. Little brutalism or high-rise to be found there.
During a try out event the curators show a site specific work of visual artist Özgür Kar (b. 1992, TR) in dialogue with the architecture of the Liebfrauenkirche Lienzingen. By doing so the Ornamenta team confronts the communities of Maulbronn and Mühlacker to actualise their heritage by opening up their spaces to contemporary artists and designers. What new life can grow from these frozen and romantic legacies?
Coming from film as well as drawing and graphic design, Kar's recent work concentrates on black-and-white animations. He sketches out male figures squeezed into the confined frames of giant flat screens. Whispering monologues of nonsense, tragedy, homoeroticism, and pulp, these characters summon contemporary tales poised between libido and longing.
The Instagram-like tiles of saints on the church's ceiling are counterbalanced by the artist's animated character on the floor of the monument from 1482. A four screen sized sculpture sings good night to its ancestors above.
For Ornamenta's try out gathering in November, the largest installation so far of the work 'Good Night' by the artist is installed and by doing so shedding new light on the location.
What dialogues might other monuments in the region be hiding, complimenting their cultural heritage?
About artist Özgür Kar (b. 1992, Ankara, Turkey)
Özgür Kar is a visual artist joining the Ornamenta community for their November try out event in the Liebfrauenkriche in Lienzingen, Mühlacker. This year his works are also presented in a solo exhibition at Fondation Louis Vuitton in Paris and Emalin Gallery in London.
Photo: Ornamenta November 2021 try out event "Das Instagram der Gotik / Singing to the saints on the ceiling", Karolina Sobel